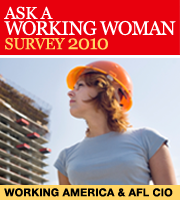 One of the running themes on this blog is the difference between what pundits and experts and too many elected officials claim working people are living through or care most about and what working people actually say matters. The pundits talk about the deficit but in poll after poll working people say they care about unemployment and jobs creation; they tell us the recession is over and the economy is improving, but working families are still struggling to keep their homes and find jobs and just generally keep their heads above water.
We don't discount statistics and we don't believe anecdote is a synonym for data, but we believe economic statistics and data should always be understood in the context of working people's experiences. Right now, we're looking to hear from tens of thousands of working women about the economies of their jobs and homes and communities, with the 2010 Ask a Working Woman survey.
For more than 12 years now, the AFL-CIO and Working America have been surveying women every two years or so, asking about their concerns and experiences, the challenges they face and the hopes they hold. It's that time again now. We want to hear from you (if you're a woman working inside or outside the home) and from the women in your life.