Todd Foose – Pittsburgh, Pennsylvania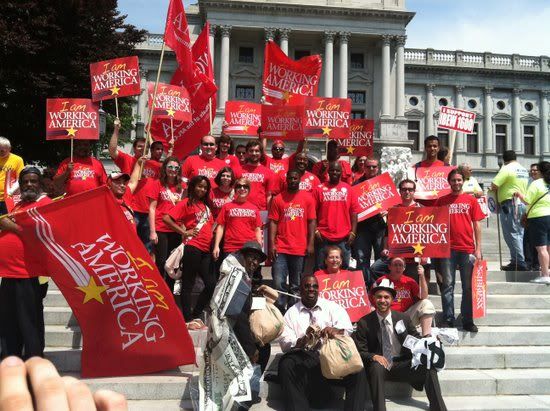 The rain held off until the ride home. Mostly sunny skies had slowly darkened until the clouds overhead let loose with heavy downpours of rain. We pulled off the road into a Pennsylvania Turnpike service plaza not far from the small town of Bedford. The short trip from the van to the rest area left most of us soaked. But inside, the mood was anything but dreary.
The plaza was packed with people in brightly colored shirts. Groups decked out in bright golds and purples and blues and reds and greens were milling about. There was a buzz about the entire place and even complete strangers were willing to say hello, hold a door or lend a hand.
"I haven't seen this many union people in one place since my last family reunion!"
This spontaneous reaction from one of our Working America field managers drew warm smiles from all around.
"You must have had a good family!" one woman replied. Several others nodded or voiced their own approval.
It was here, at a small service plaza just outside a small Pennsylvania town that I realized the Rally for a Responsible Budget had been a success. Hours later and more than a hundred miles away, people faced with long drives home in less than ideal weather were still energized by a spirit of unity that had been on full display on the steps of the State Capitol on a sunny afternoon.
And what a display it was. No one who attended will ever forget those bright gold and purple and red and green and blue shirts flocking to the Capitol grounds. When our group from Working America's Pittsburgh office arrived, we could already hear several excited groups chanting in unison from more than a block away and the rally was still an hour away from starting.
Special thanks should be given to the men and women in the bright orange shirts worn by event staff and organizers. Foot traffic seemed to move smoothly about the entire area and there were clear paths up and down the Capitol's front steps even at the height of the rally. Thousands of people from all over the state were able to make their way to the registration and information tents before receiving a packaged lunch.
By one o'clock, the golds and purples and reds and blues and greens had coalesced on the Capitol steps. Each color, of course, represented an individual union, local, or organization. In an impressive display of unity, dozens of labor groups were represented. SEIU. UMWA. AFSCME. USW. PSEA. AFT. AFL-CIO. One capitol police officer would remark afterward that it was the largest gathering he had seen at the Capitol in ten years on the job. Five thousand strong had come from all over Pennsylvania to stand united and demand a responsible budget that does not break the backs of working families.
The event's speakers drove this point home. Richard Jennings, of AFSCME 13, pointed out that: "Governor Corbett's budget is NOT about 'shared' sacrifice – it's about OUR sacrifice!" Massive budget cuts have asked ordinary, hardworking Pennsylvanians to sacrifice their jobs, their benefits and their pensions. Huge cuts to education in particular have asked parents and children to sacrifice the one thing that is most essential to paving the way toward a brighter future. Tuition at public universities is set to skyrocket. Mass transit cuts mean more people will lose their jobs because they can no longer get to work.
These are the sacrifices that the governor's budget demands from ordinary, working Pennsylvanians. The governor's budget demands the most from those who are least able to give it. It takes away from those who are most in need. At the same time, the governor's budget doesn't ask those who could most afford to pitch in to sacrifice at all.
While the governor asks children to give up important programs that nurture their creativity, teach them valuable skills like teamwork and keep them engaged in constructive activities, he has refused to ask gas drilling companies poised to make billions off the state's natural resources to pay their fair share. While the governor asks children to deal with bigger classes and less personal attention, he refuses to ask big corporations who do business in Pennsylvania to pay the same state taxes paid by the rest of us.
As I listened to Connie Perez, a state hospital worker, talk about the impact of the cuts on her family, I couldn't help but remember the stories I'd already been hearing while going door to door. Her son may not be able to finish college at Temple due to tuition hikes, just like two young men I had spoken to the night before on the other side of the state.
As I listened to Alan Redding, a municipal worker, talk about the way the cuts to sports and arts programs will affect his teenage daughter, I was reminded of the young girl who had brought out her violin to show me as I spoke with her mother about public education. I remembered the disheartened tone of her voice as she told her mom that her school's orchestra leader had told them they probably wouldn't be continuing the following year. And I could see clearly the pained face of another young mother who asked me how she was supposed to tell her daughter that she wouldn't be able to do gymnastics anymore.
What could I say to her? What could anyone? What could Governor Corbett or any of our representatives say to these parents and workers and children? Would any of them be able to speak to these ordinary men and women all over the state face to face and tell them that they had to make these painful sacrifices so that Wal-Mart could continue to exploit tax loopholes, run to Delaware and get out of paying any taxes at all?
Could any one of them drive out to the areas now abandoned by mass transit and tell a worker that he has to give up his job so that the companies making billions of dollars off of gas drilling can continue to pay no severance taxes?
Is that shared sacrifice?
The governor and those in the state house who support his budget may not want to make that kind of trip out to see the people they represent face to face in that way. And so on Tuesday, the people of Pennsylvania took a trip, many over hundreds of miles, and paid a visit to them.
The message was loud and clear coming from five thousand strong: We Are One! We demand a responsible budget that asks for sacrifices from those who can most afford to make them before it demands hardworking Pennsylvanians give up their jobs or their children's education. We demand to be heard. And we want our representatives to know that if they don't listen to us this time we have one more message: We'll be back!