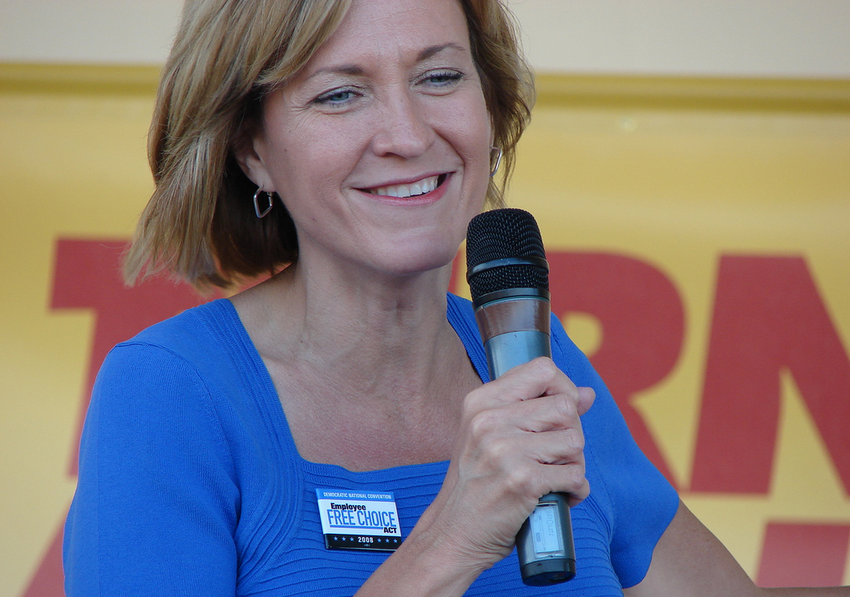 Voters of Ohio's new 16th District (check here to see if that includes you) have a unique opportunity – return one current Congressperson to Washington and send one home. Both Betty Sutton and Jim Renacci have clear voting records, and when it comes to working families, the overwhelming choice is Democrat Betty Sutton.
Rep. Sutton's votes reflect an understanding that Rep. Renacci's votes do not: that government has a limited but crucial role to play in economic recovery. Like U.S. Sherrod Brown, she fought hard for the rescue of the auto industry, as well as the "mini-stimulus" of the "Cash for Clunkers" program. She was recognized with a Distinguished Service Award from the Ohio Automobile Dealers Association (OADA) for her commitment to creating and retaining the jobs of autodealers and workers.
She voted for Obamacare, which has allowed thousands of Ohioans to afford health insurance and saved prescription drug costs for thousands of Ohio seniors. She opposed the "Ryan budget," which would gut funding for education, cripple Medicaid, and end Medicare as we know it; Jim Renacci voted for it.
Rep. Sutton has also been recognized for her work on behalf of veterans. She worked on the Stop-Loss Compensation Act and the new GI Bill, and was named Legislator of the Year by the Ohio American Veterans Association. When the VA made plans to move their Lorain clinic to a less accessible location, Rep. Sutton was instrumental in making sure it remained at the readily accessible St. Joseph Community Center.
Republicans designed the 16th District especially to give Rep. Renacci a leg up. Yet Sutton has received the endorsements of every newspaper that covers the area, and the race is nearly tied. That is because the choice is abundantly clear: Renacci has fought for obstruction and austerity, while Sutton has fought for jobs, jobs, and jobs.
We endorse Rep. Betty Sutton for Ohio's 16th Congressional District. Plan your vote now.
Tags: Betty Sutton, endorsement, Ohio, Sherrod Brown