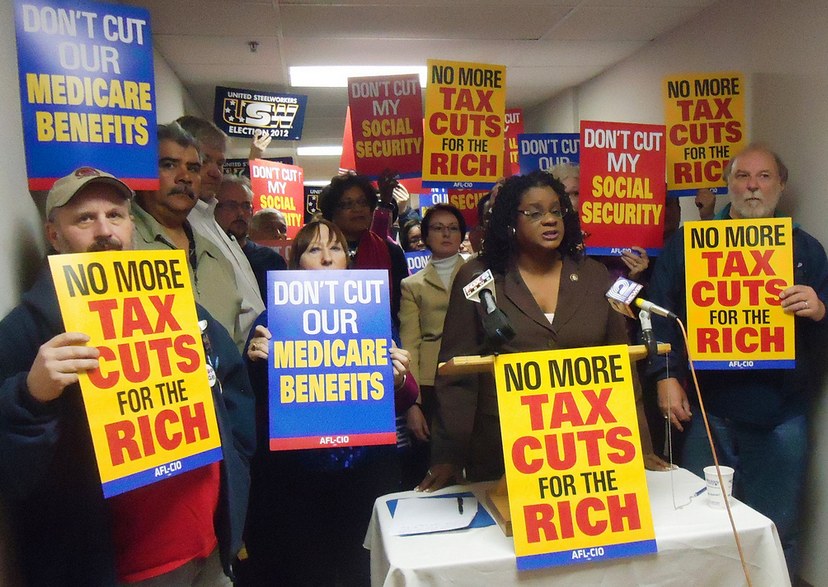 Reposted from the AFL-CIO NOW Blog
This morning outside Sen. Rob Portman's (R-Ohio) Cincinnati office (see photo), a young single mother and her son, Vincent, who has severe disabilities, talked about the vital role Medicaid plays in their lives and how devastating any cuts to that health care lifeline would be.
The action was just one of more than 100 set for today by working family activists urging Congress not to agree to a so-called "grand bargain" of deficit reduction in the upcoming lame-duck session that includes Social Security, Medicare or Medicaid benefit cuts.
In cities across the country, union members and retirees are being joined by members of progressive and faith communities and other allies as they tell lawmakers to protect the promises of Medicare, Medicaid and Social Security but to end George W. Bush's tax cuts for the richest 2%. Says AFL-CIO President Richard Trumka:
Though the election confetti is still on the street, working families are already mobilizing to hold their elected leaders accountable. The people advocating for benefit cuts to Medicare, Medicaid and Social Security are the same folks who want to cut taxes for the richest 2%. With working families across the country still struggling, we can't afford to pay for any more tax breaks for those who need them the least.
At rush hour this morning—and as a Nor'easter was raging—retired members from several AFL-CIO building and construction trades unions gathered at Boston's South Station, urging commuters to contact their federal lawmakers and tell them to protect these critically important working family services.
At many of today's events, working family activists highlighted an AFL-CIO election night survey of the general public conducted by Hart Research Associates, showing that by a 64% to 17% margin, voters say we should maintain Social Security and Medicare benefits and address the deficit by increasing taxes on the rich, not by reducing benefits.
Working families in Milwaukee, along with AFL-CIO Executive Vice President Arlene Holt Baker, joined Rep. Gwen Moore (D-Wis.) for a forum at her district office and talked about mobilizing to block any "grand bargain" that included cuts to Social security, Medicare and Medicaid benefits.  Brad Esson, a Machinist member (IAM) from Racine, said:
I've spent my entire life working hard to pay the bills for myself and my family. I believe that every person deserves the chance to retire in dignity. Shame on any congressperson that does not share that core American belief.
At the state Capitol in St. Paul, Minn., several workers and retirees talked about the impact on their lives—and the lives of millions of Minnesotans—of Social Security, Medicare and Medicaid.
In Helena, Mont., the Montana AFL-CIO is hosting a 99% Summit to outline what's at risk for working families in the lame-duck session and how to win tax fairness and protect vital programs.
At the UAW hall in Grand Prairie, Texas, the Texas Alliance for Retired Americans has organized a "Don't Let Lame Duck Quack Us Up" panel and postcard-writing to Congress to outline the harmful decisions that could be made for seniors.
In Philadelphia, Pa., more than 100 union members and working families joined Rep. Bob Brady outside a Social Security office to speak out against cuts to Social Security, Medicare and Medicaid. Karen Traylor, a member of Working America, the AFL-CIO's community affiliate for workers who don't have a union on the job, spoke about how important Medicaid is to her and her two children while she's unemployed. Among the unions represented were AFSCME, AFT, AFGE, Communications Workers of America (CWA), Transport Workers (TWU), Bricklayers, Sheet Metal Workers (SMWIA), Letter Carriers (NALC), UNITEHERE!, Electrical Workers (IBEW), Steel Workers (USW), National Postal Mail Handlers Union (NPMHU) and Theatrical State Employees (IATSE).
Here's a list of events around the country. Find one near you. You also can take action at our new Protect Our Future website, where you can sign a petition, tell us your story of what Social Security, Medicare and Medicaid mean for you and your family, download a flier and learn more.
In addition to today's actions, the AFL-CIO joined with progressive allies today to run a full-page ad in The Washington Post calling on President Obama and Congress to support Social Security, health care, education, infrastructure and job creation while asking everyone, including the wealthiest, to pay their fair share. Here's the ad.