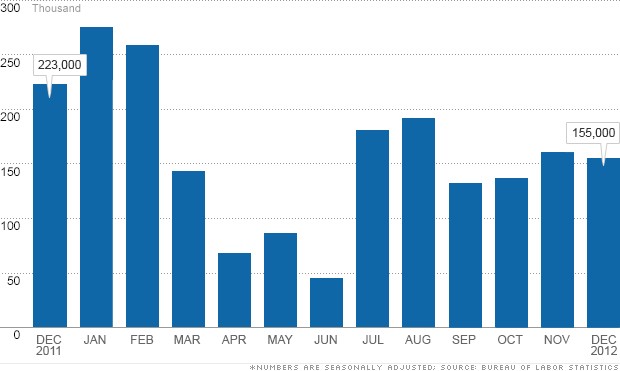 The nation's economy added 155,000 new jobs in December and the jobless rate was unchanged from November's adjusted 7.8%, according to figures released this morning by the U.S. Bureau of Labor Statistics (BLS).
The 155,000 jobs created reflect 34 straight months of positive job growth.
Economic Policy Institute (EPI) economist Heidi Shierholz says:
This morning's jobs report was status quo….The problem, of course, is that a status quo report in today's labor market represents an ongoing jobs crisis. The jobs deficit—the number of jobs lost since the recession officially began five years ago plus the number of jobs we should have added just to keep up with the normal growth in the potential labor force—remains nearly 9 million.
John Ryding, chief economist at RDQ Economics, was a bit more positive and told The New York Times:
It's not a home-run report by any stretch, but it's constructive. It's another month of fairly stable, solid, moderate job creation.
The biggest job gains were in health care (45,000), food services (38,000), construction (30,000) and manufacturing (25,000). Employment in retail trades was essentially unchanged in December, while there was a slight decrease in public-sector jobs.
The jobless rate for adult women rose to 7.3% from November's 7.2% and for African Americans it was up to 14%, compared to last month's 13.2%, while the unemployment rate for adult men remained unchanged at 7.2%. The jobless rate for teenagers (23.5%), Hispanics (9.6%) and white workers showed little change from the previous month.
The number of long-term unemployed (those who are jobless for 27 weeks or more) remained at 4.8 million. The fiscal cliff agreement President Obama signed this week continues the federal long-term unemployment insurance benefits program. Christine Owens, executive director of the National Employment Law Project (NELP), says:
The economy is improving, but we're still not creating jobs fast enough for the 12.2 million unemployed looking to get back to work.
For the year, the jobless rate has dropped from 8.5% in December 2011 to this December's 7.8%, but to underscore Shierholz, the share of people who have jobs dipped slightly from 64.0% to 63.6%.