Memphis sanitation workers who marched with MLK march with Georgia sanitation workers now.
Want to modernize voting? Listen to John Lewis.
New York Gov. Cuomo declares public health emergency due to flu outbreak. What about earned sick days?
Since no one else is looking into it, PBS' Frontline investigates why no Wall Street execs have gone to jail since the 2008 crisis.
Related: A proposal to break up megabanks and end "too big to fail" from an unlikely source.
Chart of the Day: The strike has almost vanished since the 1970's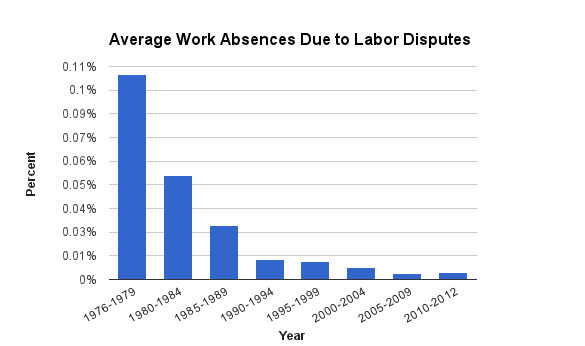 Key Quote: "We have essentially gone back to a pre-New Deal era of workplace governance."
Editorial: Ohio should accept Medicaid expansion, like, now.
Republican legislators trying to ban fair bargaining in Pennsylvania, Iowa, and Colorado.
Florida AG Pam Bondi – last seen doing nothing about foreclosure fraud victims – gets really mad about a tweet.
Finally: How Walmart is like Lance Armstrong.