Take Action: Tell the DC City Council to pass the Large Retail Accountability Act.
Walmart is the nation's largest private employer: 1.4 million Americans, or about 1 percent of the working population, are Walmart employees. Walmart also pays exceedingly low wages to those employees. But a bill in DC could set a nationwide precedent to drag Walmart employees out of poverty.
Even in the realm of big box retail stores, Walmart is winning the race to the bottom. A 2005 NYU study found that Walmart employees earn 28 percent less, on average, than workers at other large retailers. That puts downward pressure on their competitors: the same NYU study found that in 2000, retail workers would've taken home $4.5 billion more if Walmart wasn't around.
If Walmart gave all of its workers even a small pay raise, the effect would be like an economic stimulus, with millions of workers able to purchase essentials with the extra cash in their pocket.
That's why you better be watching the DC City Council, and that's why you should know the letters LRAA: the Large Retail Accountability Act.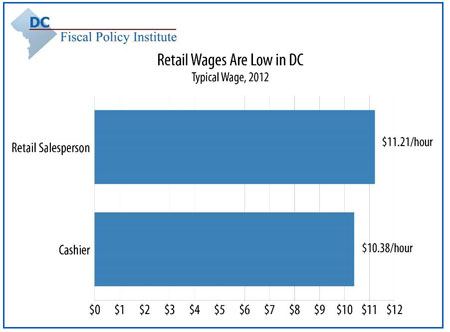 The bill would require DC businesses a.) with at least 75,000 square feet and b.) whose parent company has annual sales of at least $1 billion to pay their workers at least $12.50 an hour. In the District of Columbia, that ropes in Costco, Home Depot, and yes, Walmart.
Elissa Silverman of the DC Fiscal Policy Institute explains:
The bill comes at a time when the District is experiencing a population boom, and when development in many neighborhoods is attracting national retailers. A growing retail sector adds jobs to the District, but the hourly pay is often at or close to the city's minimum wage, which is currently $8.25 an hour.  The median wage for cashiers in DC area is $10.38 an hour – meaning half earn less than this and half earn more – while the median wage for retail salespeople is $11.21 an hour.
If you think $12.50 is a wildly high hourly wage, consider this:
…As the committee noted, many of the city's large retailers already have an average wage that meets or exceeds the living wage, which means the living wage requirement would affect their lowest-paid workers but not all.
Is this unfair to Walmart? Walmart certainly thinks so. But you don't have to be a math major to find that Walmart could pay its workers much more than $12.50 an hour and still be making gangbusters: $400 billion in global sales last year, with more than $15 billion in profit. The company is owned by some of the richest people on the planet. Through social programs like SNAP and Medicaid, taxpayers subsidize Walmart to the tune of over $900,000 annually.
Councilman Vincent Orange put it this way: "Big business, come in, make your profit, make your sales. But if your company makes more than $1 billion a year, you must pay our citizens $12.50 an hour or more."
The bill passed its first reading on Wednesday, with a vote of 8 to 5. If the bill passes the second vote in July, it goes to Mayor Gray for his signature or veto. This could set a nationwide precedent for other communities to ensure Walmart plays by their rules – not the other way around.
Take Action: Send a message to the DC City Council asking them to pass the Large Retail Accountability Act.
Tags: Corporate Accountability, DC, Jobs, living wage, minimum wage, wages, Walmart