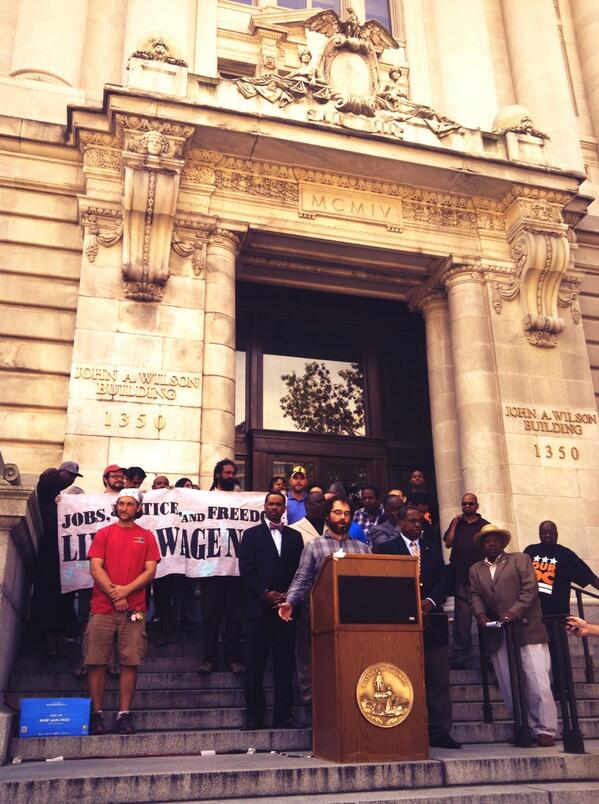 Several dozen Washington, D.C., community, faith and worker activists brought concrete evidence to Mayor Vincent C. Gray that district voters believe workers deserve a living wage, when they delivered 31,917 signatures on a petition urging Gray to sign the Large Retailer Accountability Act (LRAA).
In late June, the D.C. City Council passed the LRAA that calls for a $12.50 an hour wage for workers in big-box stores such as Walmart. But Gray has yet to say if he will sign or veto the living wage bill. Today's petition is the latest in the campaign by district residents that has included email messages and phone calls to urge the mayor to listen to voters, not Walmart lobbyists and lawyers.
In a press conference on the steps of the city's Wilson Building, the Rev. Virginia Willis (see photo) said district workers need jobs:
But minimum wage isn't enough. We're talking about a living wage. We're not going to be pushed around by out of town corporations. Sign the bill, Mr. Mayor.
Gray has previously expressed support for a living wage law and Metropolitan Washington Council President Jos Williams told the crowd that while running for office, Gray endorsed such a law when he sought the council's support.
The mayor is expected to act on the bill early next week, meaning there is still time for district residents to click here to send Gray an email urging him to sign the living wage law.
Tags: aflcio, Corporate Accountability, DC, lraa, minimum wage