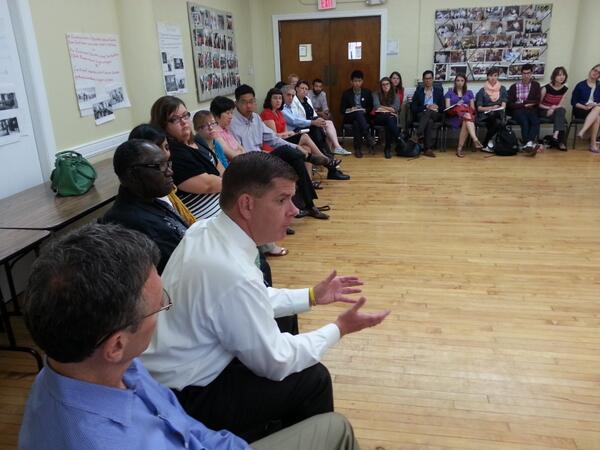 Since current Mayor Thomas Menino was elected in 1993, the city of Boston has seen incredible change. From West Roxbury to East Boston, entire industries have sprung up, fueled by innovation from the city's world-renowned universities. Immigrants from across the globe have made their home in Boston, creating one of the nation's most diverse communities.
Unfortunately, there has been another change: Boston has become much more unequal. The last 30 years have seen wealth in the city increasingly concentrated, and now the Boston area has greater inequality than 85 percent of U.S. metropolitan areas.
The central challenge for the next mayor is to ensure that Boston is a city where families in all communities can thrive; a place where the American Dream is reality, not just a part of proud history. That's why Working America is proud to endorse State Representative Martin J. Walsh to be the next mayor of Boston.
Few elected officials are more attuned to the needs of Bostonians than Marty Walsh. As the son of Irish immigrants, Walsh understands the challenges of making a life in a new country. As a survivor of Burkett's lymphoma, a form of childhood cancer that struck him at age seven, he knows personally the struggle to access affordable health care, and the value of Boston's world-class medical treatment and research facilities.
As a union construction worker since the age of 18, Marty Walsh recognizes better than most elected officials the inherent dignity of a full day's work at a good job with fair wages. At a time when the majority of jobs created are in notoriously low-wage sectors like service and retail – jobs that only recognize the dignity of corporate shareholders – a mayor with Walsh's experience is needed now more than ever.
Walsh's vision for the city is bold. He will expand access to affordable housing in the city, redouble the fight against unfair foreclosures, and even provide incentives for childcare facilities that are open during second and third shifts. From his time in legislature working on transportation issues, he is well-positioned to improve the MBTA public transit system, including pushing back the T's infamous early closing hours. Not only does that give a boost to the city's nightlife, it also helps Bostonians who work those later shifts make it home without breaking the bank.
Walsh has been an aggressive advocate for public education throughout his career. He plans to invest in early childhood education by doubling the number of K-1 seats and increase overall funding for public education. "My ultimate goal is to make Boston Public Schools so good there there is no need for alternatives," he told the Boston Globe, "In the city where public education was invented, we should be as renowned for our public schools as we are for our institutions of higher learning."
Making bold investments with a view toward the future is a Marty Walsh staple. It was key to the successful creation of Building Pathways, a pre-apprenticeship program focused on training women and people of color for careers in the building trades. At first, the program faced skepticism, even from within the union. "They kept talking about the past," Walsh told Building Pathways' April 2013 graduating class, "and I said this program's going to be different." By its fourth year, the program had such a strong reputation that 85 percent of participants had been placed at jobs prior to graduation.
Walsh's ambitious pro-worker agenda has been met with resistance. The formerly Rupert Murdoch-owned Boston Herald, (which endorsed anti-worker candidates George W. Bush and Mitt Romney for president), offered a "rare non-endorsement" to Walsh, using divisive language straight out of the Scott Walker playbook. Similarly, various opponents in the crowded field have sought to use Walsh's labor experience against him.
They should remember that from the laborers who built the skyline to the city's heroic first responders, the men and women of the labor movement are an indelible part Boston; and that Boston workers, whether or not they have a union, benefit from higher wages and better benefits caused by labor's influence. "I'm proud of my record with labor," Walsh said at a debate, "I wear it as a badge of honor. I love supporting working class people and I'm proud of it."
Sitting back and taking shots is easy. The politicians who take that route during the campaign are more likely to be passive in office as well, even as inequality in Boston becomes a chasm and affordable housing and good jobs are increasingly scarce.
With his working class background and firsthand experience as laborer, Marty Walsh knows that passivity is not acceptable. For a Boston where inequality is tackled head on, and for a city where all families can thrive, vote for Marty Walsh on Tuesday, November 5th.
Paid for by Working America. Not authorized by any candidate or candidate's committee.