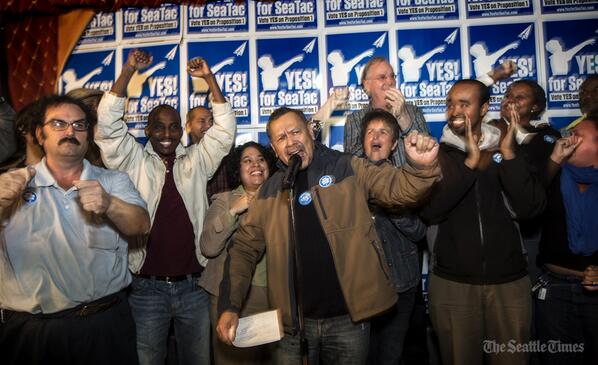 As previously reported, SeaTac, a small town outside of Seattle, voted to raise its minimum wage to $15 per hour on Nov. 5. The victory was confirmed Tuesday after a recount and will go into effect after a corporate-backed lawsuit over the wage is resolved. Now working family activists in Washington State are hoping to ride the success of the SeaTac vote to Seattle, and they've found support from the mayor and the majority of City Council members.
"We're carrying the $15 victory from SeaTac to the destination of our next victory," said Working Washington spokeswoman Sage Wilson.
The council set aside $100,000 for a study, to be completed by June, of a $15 wage. Mayor-elect Ed Murray (D) said he will bring labor and business groups into the discussion about the increase, which he said should be phased in over time to give employers time to adjust. Socialist council member-elect Kshama Sawant said she wants the process to happen more quickly and suggested she would pursue a ballot initiative on the $15 wage in 2014.
Photo via @SeaTimesPhoto on Twitter
Tags: aflcio, minimum wage, seatac, seattle, washington