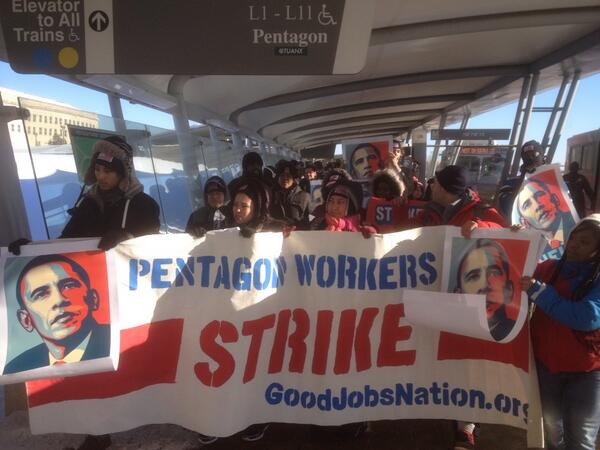 A group of Pentagon workers employed by federal contractors at low wages to operate concessions and clean federal buildings are the latest federal contract workers to walk off the job and urge President Barack Obama to use his executive authority to establish a living wage requirement for contractors that do business with the government.
Salon's Josh Eidelson reports that low-wage contracted workers at several other federal buildings joined today's demonstrations. Read Eidelson's full report.
About 2 million workers are employed at low wages by federal contractors across the nation.
Like low-wage fast-food and retail workers across the country, the federal workers have staged one-day strikes to spotlight their demands for a living wage and the right to join a union without retaliation by employers.
In September, a group of federal contract workers marched to the White House and delivered petitions with more than 250,000 signatures, urging Obama to issue an executive order requiring federal contractors to pay a living wage. While Obama has called on Congress to increase the federal minimum wage, the White House has not indicated if Obama will issue the living wage executive order for federal contractors.
More than 200 workers at six Smithsonian museums in Washington, D.C., won union representation with UNITE HERE late last year and are bargaining for better wages and working conditions.
Tags: aflcio, Corporate Accountability, DC, minimum wage, organizing, Pentagon, poverty, unite here, washington dc