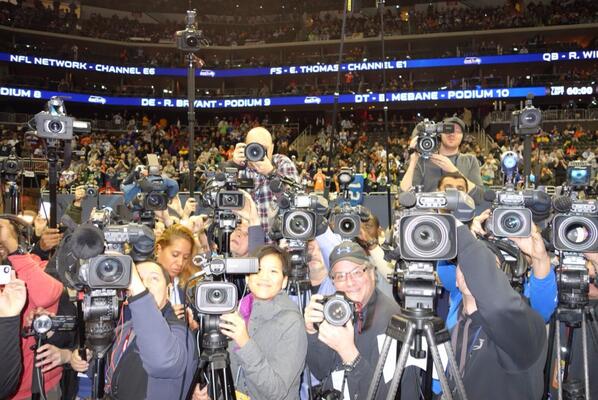 Sunday is the first outdoor, cold weather site Super Bowl in the game's 48-year history. The frigid weather in the weeks leading up to the game and expected temps in the 20s and 30s won't stop the thousands of union members who are bringing you the game. On the scene at MetLife Stadium in the New Jersey Meadowlands or behind the scenes at many facilities in the Metro New York-New Jersey area, union members are making the nation's national party day possible.
So, as a preview before you sit back, open a beverage and eat far too many snacks that are far from healthy, we introduce Sunday's starting union lineup.
Of course, on the field, the Seattle Seahawks and Denver Broncos players are members of the NFL Players Association (NFLPA), and the men in the striped shirts are members of the NFL Referees Association.
The announcers, camera operators, technicians, field workers and other hardworking folks bringing the game to your flat-screened football cave or favorite Broncos or Seahawks bar include members of SAG-AFTRA, Broadcast Employees and Technicians-CWA (NABET-CWA), Electrical Workers (IBEW) and Laborers (LIUNA).
The annual over-the-top halftime show is a down-to-the-second, choreographed, on-the-field, off-the-field 12-minute extravaganza made possible by the skills of Theatrical Stage Employees (IATSE) and the American Federation of Musicians of the United States and Canada (AFM) and other performing artists. Anyone who takes in a show in the city likely will enjoy the talents of Actors' Equity (AEA).
For the fans who head for the concessions, their hot dogs will be served and their beer will be drawn by men and women from UNITE HERE Local 100.
Away from the stadium, union members are making an impact, too. Folks taking the area's huge mass transit system are being safely delivered to their destinations by members of the Transport Workers (TWU), Amalgamated Transit Union (ATU) and United Transportation Union (UTU).
A large number of the area's hotels are staffed by members of unions of the New York Hotel Trades Council. Many of the firefighters, emergency medical personnel and other public service workers who are ensuring a safe and efficient Super Bowl week are members of the Fire Fighters (IAFF) and AFSCME.
Of course, the fans who flew in for the big game got there safely, thanks to aviation workers from the National Air Traffic Controllers Association (NATCA), Air Line Pilots (ALPA), Association of Flight Attendants-CWA (AFA-CWA), Transport Workers (TWU) and Machinists (IAM).
Also, a big thanks to AFT and NFLPA for raising awareness about human trafficking during large sports events such as the Super Bowl.
Image via @northjerseybrk on Twitter
Tags: AFA-CWA, AFM, afscme, ALPA, Colorado, Denver, iaff, IAM, IATSE, ibew, liuna, NABET-CWA, New Jersey, New York, NFLPA, SAG-AFTRA, seattle, teamsters, TWU, unite here, washington