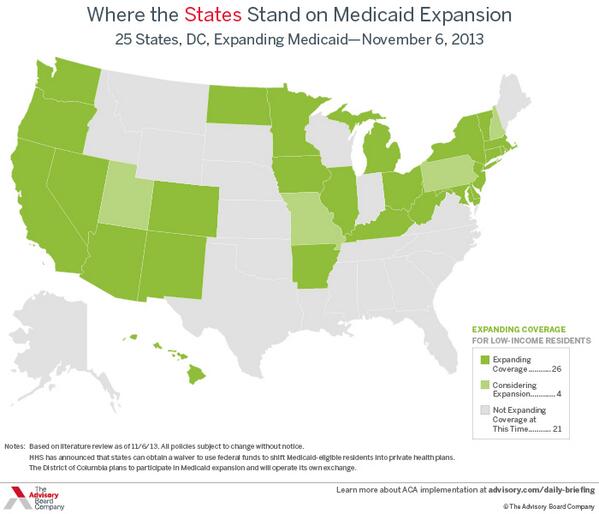 Our country is split down the middle when it comes to Medicaid. Literally.
25 states and the District of Columbia have elected to expand Medicaid through the Affordable Care Act. That includes states with both Democrats and Republicans in control.
Unfortunately, politicians in 25 states have actively refused to expand Medicaid, even though the federal government would pay for 100 percent of costs through 2016, and never less than 90 percent after that.
The stubbornness of these politicians is leaving 5 million Americans without access to affordable health insurance.
Luckily, the White House and wide variety of activist groups are pursuing the issue in 2014. In Florida, Virginia, New Hampshire, North Carolina, and Maine, there are signs that next year's legislative sessions could offer a path to expanding the program in those states.
In addition, enough voters are waking up to the needless cruelty of blocking Medicaid expansion to make it a viable campaign issue. Terry McAuliffe, a Democrat, was elected governor  in purple Virginia in part by promising to make expansion a priority. 200,000 Virginians would be helped by such an action.
Rep. Mike Michaud, the leading Democratic gubernatorial candidate in Maine, has made an issue out of Republican Gov. Paul LePage's outright refusal to expand Medicaid. "It's not just good economics; it's the morally right thing to do," Michaud writes on his campaign website.
However, the big win would be in Texas, which has the most uninsured of any state in the country. Nearly 2 million Texans would benefit from expansion, but Gov. Rick Perry refuses to take any action on the issue.
More than 16,000 Texans have signed our petition to Gov. Perry to expand Medicaid. Join them.
Tags: Florida, Health Care, Maine, Medicaid, Mike Michaud, New Hampshire, North Carolina, Paul LePage, Rick Perry, Terry McAuliffe, Virginia