Remember Obamacare? Also known as the Affordable Care Act? With news of conflict and tragedy dominating the airwaves, recent news about the sweeping new health care law has been getting swept under the rug.
That's too bad, because here's the basic headline: the Affordable Care Act is working, and consumers have a lot to look forward to when the next open enrollment period starts in November.
Here's the rundown:
1.) More insurance companies are joining the exchanges. The health exchanges set up under the ACA work best when more insurance companies participate. More companies means more competition for your business, which ultimately means lower prices for consumers.
For instance, last year in New Hampshire there was only one company on the state exchange–not a recipe for healthy competition. Even so, signups exceeded expectations, and other companies are diving in to swoop up consumer dollars. For 2015 open enrollment (which begins on November 15, 2014), there will be not one more but four more companies on the New Hampshire exchange.
That's happening across the country. In Michigan, there will be 18 companies for 2015 open enrollment versus 13 in 2014. In Indiana, consumers will have double the options to choose from. Major carriers like United, Aetna, and Cigna are wading into California's exchange, which they previously sat out. Again, more competition means more options and lower prices for consumers.
2.) The ACA is massively cutting the rate of uninsured. Between the creation of state exchanges, the expansion of Medicaid in half the country, and the end of disgusting insurance practices (like denying insurance to those with pre-existing conditions), the Affordable Care Act is succeeding at its main goal: reducing the number of uninsured Americans.
Look at where we stand. The rate of uninsured in New Jersey is down 38 percent. In Minnesota, it's down a whopping 40 percent. And in Kentucky, where Senator Mitch McConnell advocated full repeal of the ACA, the rate of uninsured has been cut in half.
What of predictions that all those consumers signing up wouldn't pay their premiums? Charles Gaba, who runs ACASignups.net, has crunched the statewide data and estimates 90 percent of those who signed up on the exchanges have paid the first premiums.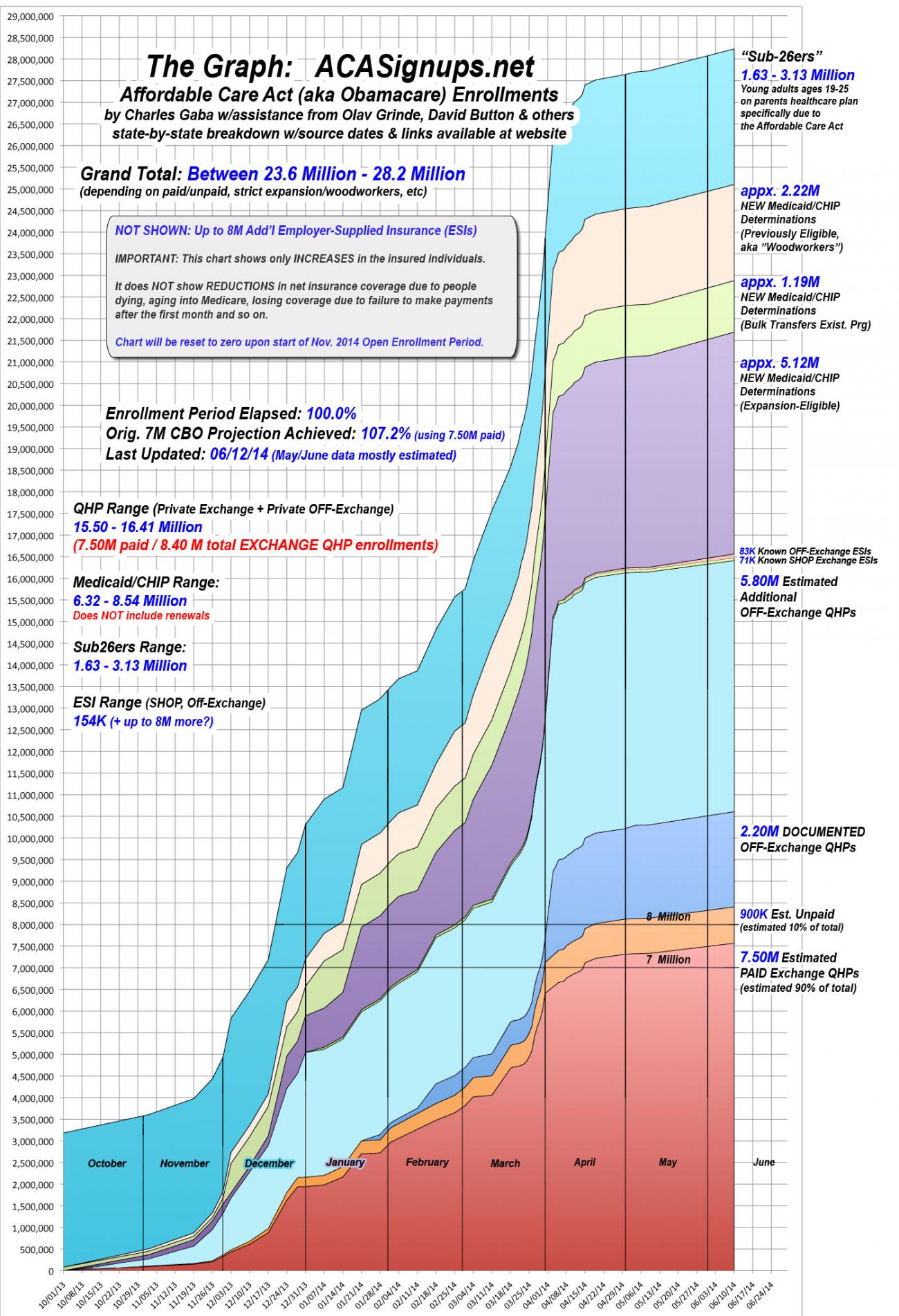 3.) A majority of Americans want to keep the ACA. The Koch Brothers, the Republican Party, and the health insurance lobby itself have all spent massive amounts of money on a barrage of misinformation to convince the country that Obamacare is a government takeover, a socialist conspiracy, a massive waste of money, or the "worst thing since slavery," depending on who you ask.
But as more and more people gain the peace of mind that health coverage brings, the misinformation loses its effectiveness.
A Bloomberg poll released on June 11 shows that 56 percent of Americansthink Obamacare "may need small modifications, but we should see how it works," vs. 32 percent for repeal and 10 percent for leaving it be. The poll also finds 11 percent oppose the law because it didn't go far enough.
And as we've seen since 2010, support for the actual components of the ACA is much higher: 55 percent support eliminating lifetime caps, 65 percent support changing rules on preexisting conditions, and 75 percent (!) support allowing children to remain on parents' plans until 26.
As MSNBC's Simon Maloy put it: "We're only six days into June, and opponents of the ACA have already had a terrible month." Which makes it a great month for consumers like you and me.
Visit WorkingAmericaHealthCare.org to find out more information on getting affordable coverage that works for you.
Photo by Obamacare on Facebook
Tags: ACA, Affordable Care Act, California, Health Care, Kentucky, Koch Brothers, Minnesota, Mitch McConnell, New Hampshire, New Jersey, obamacare