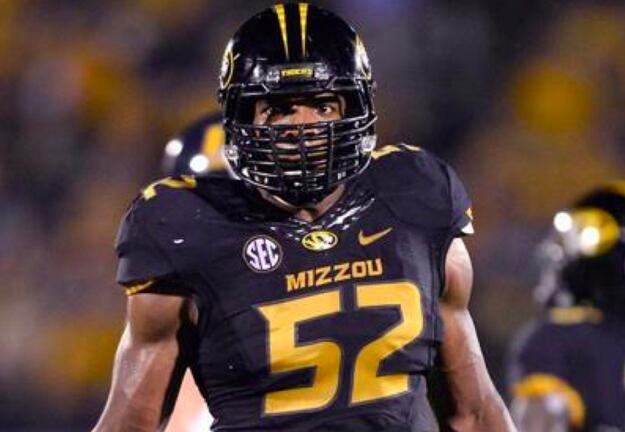 In February, University of Missouri defensive end Michael Sam became the first openly gay player to be considered for the NFL draft. If he is drafted, he will make history by becoming the first openly gay player in the National Football League.
Luckily for Sam, the NFL has a company-wide policy banning discrimination based on sexual orientation. Unfortunately, however, the country as a whole has no such law: in 29 states you can be fired for being gay (or perceived as gay) and in 33 states you can be fired for being transgender.
If Michael Sam is drafted by the Jacksonville Jaguars, Houston Texans, Tennessee Titans, Arizona Cardinals, or Carolina Panthers, he will work in a state where most LGBT people have no workplace protections (13 other teams operate in cities that ban discrimination based on sexual orientation, but where there are no such statewide laws).
Bloomberg's Joshua Green laid out Michael Sam's predicament in a February 12 Boston Globe op-ed:
Sam essentially has no say in where he'll work, since whichever team drafts him will have exclusive rights to his services. No federal law prevents employers from discriminating against him on the basis of his sexuality. So he's uniquely exposed to the vagaries of state laws — or, in many cases, the lack of one. If Sam winds up with, say, the New England Patriots, he'll be protected by the laws that prohibit workplace discrimination in Massachusetts and 20 other states. But if he's drafted by the Atlanta Falcons, he won't be, since Georgia does not ban discrimination.
The lack of coherence in the law Green points out could be solved, at almost any point in time, by Speaker John Boehner.
In November 2013, the U.S. Senate passed the Employment Nondiscrimination Act (ENDA) with a huge bipartisan majority of 64-votes. ENDA would ban discrimination based on sexual orientation nationwide, solving the "vagaries of state laws" problem Michael Sam and millions of other LGBT Americans face daily.
Unfortunately, Speaker Bohener has yet to introduce it in the House. "The speaker believes this legislation will increase frivolous litigation and cost American jobs," said Boehner's spokesperson.
On this issue, Boehner is on the wrong side of public opinion. 70 percent of Americans believe LGBT people face "a lot" or "some" discrimination at work, and 73 percent favor laws that would protect LGBT from discrimination at the workplace.
With any luck, Sam will be drafted by a team in a city where he would be protected as a football player, a schoolteacher, or a fast food worker equally. But chances are that he will remain exposed to legal discrimination, as will LGBT players who come after him, unless Boehner is convinced that the issue is not as "frivolous" as he thinks it is.
Photo by @BuzzFeed on Twitter
Tags: enda, John Boehner, lgbt, nfl, Rights At Work